Southwestern Indiana
Where can I find out who is on my ballot and their stances on various issues?
Go to Vote 411 for personalized voting information.  Vote 411 is a platform of the national League of Women Voters Education Fund.  By entering your name and address you will be able to see a list of candidates on your ballot.  To help you decide on your candidates, the League of Women Voters of SW Indiana, along with League members from the State of Indiana and National, have surveyed our Vanderburgh County, state, and national candidates on key issues.

When and where are Early Voting in-person and on Election Day in Vanderburgh, Posey, and Warrick Counties?
VANDERBURGH COUNTY
As of Friday, October 30 here are the remaining early voting times in Vanderburgh:
Friday, Oct 30, 8am-4 pm ONB Events Plaza
Friday, Oct 30, Noon-5 pm  Central, McCollough, North Park, Oaklyn and Red Bank Libraries
Saturday, Oct 31 8am-4 pm ONB Events Plaza
Saturday, Oct 31 8 am-3 pm Northeast Park Baptist Church, 1215 N Boeke Rd
Saturday, Oct 31 8 am-3 pm Cedar Hall School, 2100 N Fulton
Monday, Nov 2, 8 am-noon ONB Events Plaza

Where can I vote on Election Day in Vanderburgh County? 
You can vote at any vote center on Election Day, Nov. 3.  Polls are open 6 am-6pm.  Here is a list: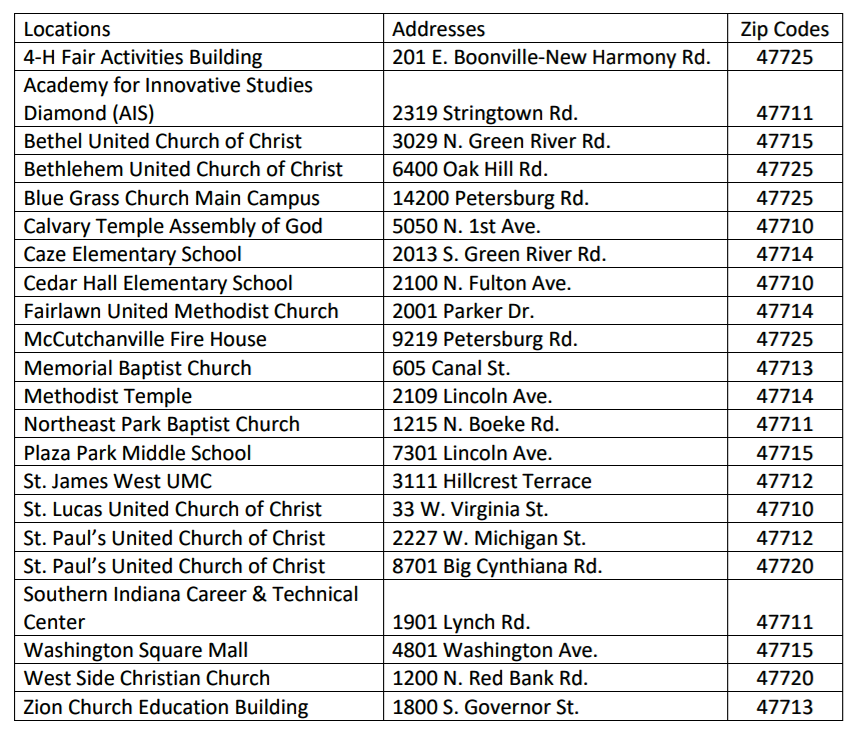 WARRICK COUNTY 
Early Voting Locations:
First Christian Church Newburgh
Lynnville Community Center
Boonville Judicial Center
Dates and Hours: Tuesday, Oct. 6 thru Monday, Nov. 2. (Lynville not open on Oct. 9)
Monday, 8 am – 6 pm
Tuesday-Friday, 8 am – 4 pm
Saturday (Oct. 24 & 31 only) – 8 am – 3 pm
Monday, Nov. 2, 8 am – NOON

On Election Day:
Polls open at 6 am and close at 6 pm. On election day, you must vote at your local precinct. Your polling site is listed on your voter registration card, or by checking your registration HERE.
POSEY COUNTY 
Early Voting Dates and Hours:
Posey County Clerk's Office: Tuesday, Oct. 6 thru Monday, Nov. 2, from 8 am - 4 pm, M-F. Also open Saturdays (10/24 & 10/31 only) from 9 am - 4 pm. On Monday, Nov. 2 voting hours are from 8 am- NOON only.
Marrs Township Fire Department #2 Saturdays only, 10/24 & 10/31, 9 am - 4 pm.
Poseyville Community Center: Saturdays only, 10/24 & 10/31, 9 am - 4 pm.
On Election Day:
Polls open at 6 am and close at 6 pm. You do not have to vote at your local precinct. You may vote at ANY vote center within the county.
WHAT IF I NEED A RIDE TO THE POLLS?
If you need (or know of someone who needs) a ride to the polls here is info from the Democrats and Republicans. If you are a Vanderburgh County Republican voter and need a ride to the polls to vote, call the office at 812-425-8207. And from the Democrats: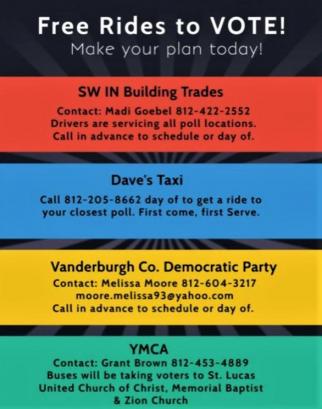 CAN I register to vote or check my voting status online? What is the deadline for the 2020 General Election? 
Go to the Indiana Voter Portal at https://indianavoters.in.gov/.  Click on "Register to Vote" or "Check Voting Status."  
The deadline to register for the General Election was October 5, 2020.
WHAT WAS THE DEADLINE FOR applying to vote absentee by mail?   
The deadline was 

11:59 PM on Thursday, October 22.

As soon as you receive your ballot in the mail, complete and return it in the pre-stamped envelope -- or take it directly to the Election Office.  Don't wait! During the primary many people waited until the last minute and that creates backlogs and with potential postal service delays, ballots may not make it in time.
How can I tell if my absentee ballot application or my absentee ballot itself was received by the Election Board?
Scroll down and click on "Visit My Voter Portal." Input your name, DOB, and county of registration to log in. (Try using your full first name as it likely appears on the voter registration records.) Click Continue then scroll down to see information on your absentee ballot on the bottom left side of the screen.   
WHAT IF I CHANGE MY MIND after applying for an absentee ballot and decide to vote in person?
Once you request an absentee ballot, it is best if you vote that way.
If you show up at an election site to vote in person after you have requested an absentee ballot, you will have to complete additional paperwork and the ballot that you received in the mail must be surrendered. This creates delays for everyone.
WHEN must my vote-by-mail BALLOT reach the local Election Board?
Once your ballot has been mailed to you, it must be received by your County Election Office before noon on Tuesday, November 3, 2020. Your completed ballot will not be accepted after noon. You can return it in person.
Before mailing you ballot MAKE SURE TO SIGN AND DATE THE YELLOW HIGHLIGHTED AREA ON YOUR BALLOT RETURN ENVELOPE.
A voter, the voter's attorney-in-fact, a bonded courier, or a member of the voter's immediate household may hand-deliver a completed absentee ballot to the county election board. Any person other than the voter doing so is to complete the ABS-19 affidavit.  
Download forms from the Secretary of State website.
Troubleshooting Absentee-By-Mail Ballot Issues (information from https://www.in.gov/sos/elections/2402.htm)
Before Election Day, a voter who has an absentee application on file can fix most issues by filing an ABS-5 form with county election officials. Examples include spoiling a ballot because the voter made an error, mistakenly signing your name on your spouse's ballot envelope, forgetting to sign your ballot envelope, or receiving the wrong ballot or a ballot lacking two sets of initials.
On Election Day, a voter who requested an absentee ballot but never received it in the mail may complete the PRE-5 affidavit at their polling location and vote a regular ballot, if otherwise qualified; OR

A voter may surrender their absentee ballot to the Inspector, who can then issue a regular ballot, if the voter is otherwise qualified; OR
A voter who had their absentee ballot rejected by county officials may appear before the county election board not later than 5PM on Election Day to request an ABS-21 form and then go to their polling place to vote a regular ballot, if otherwise qualified.